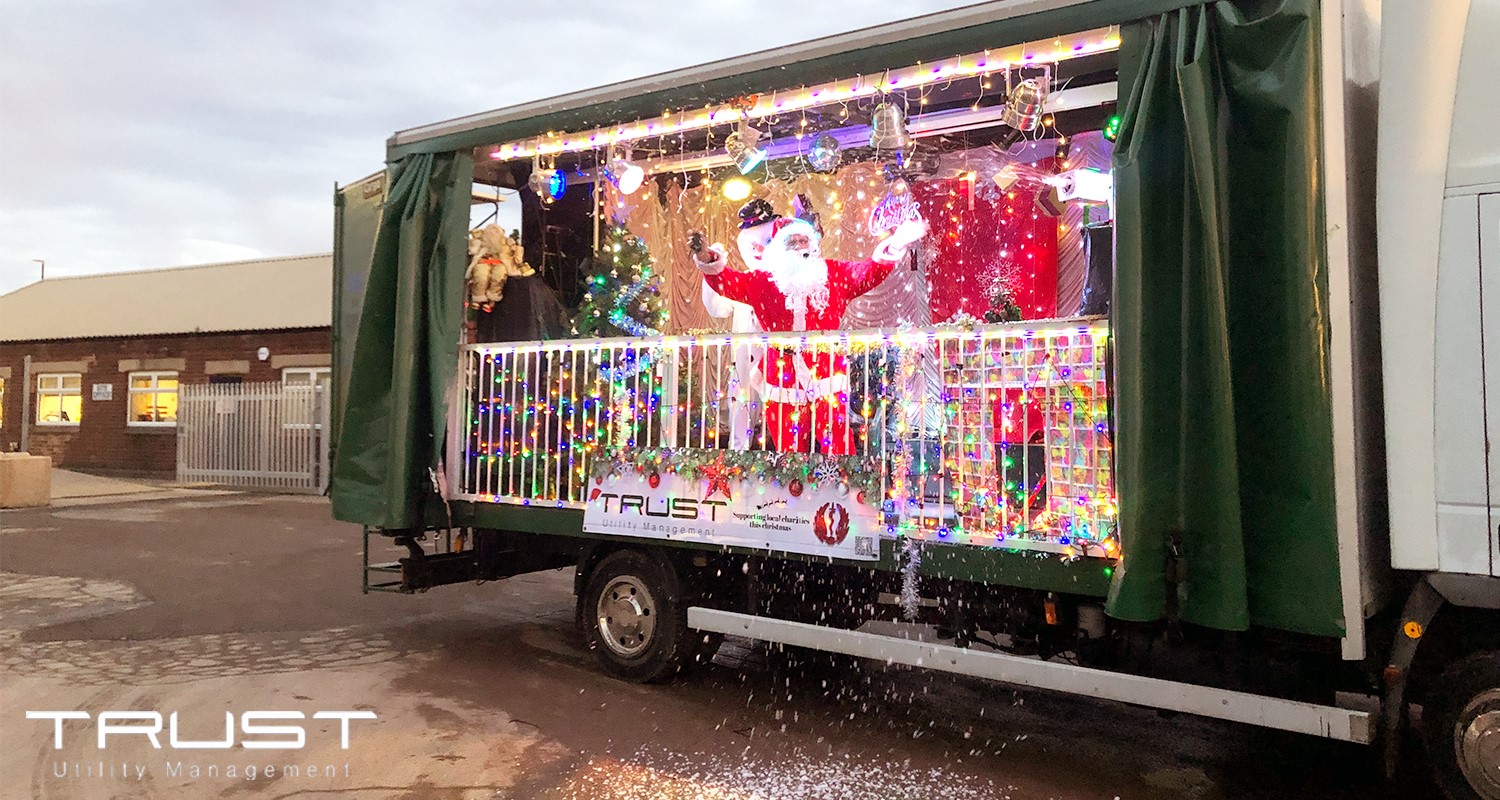 Spread The Christmas Cheer with Trust Utility Management and Ilkeston's League Of Friends.
15.12.2020
As we approach that time of year, full of joy, laughter and love, we also spend time thinking of those who may be less fortunate or in need during this time and ways of which we can give back.
Our colleague, Clive Smedley is one of the two founders of an organization that raises money for a number of different charities.  Him and his friend began this organization 20 years ago and have gained a number of volunteers along the way, whilst raising around £80,000 for a variety of different charities. Each year Clive and the other volunteers plan the well know Santa Bus to raise money for the Ilkeston League Of Friends Charity.
Ilkeston's League Of Friends.
The Ilkeston's League Of Friends is an organization set to raise money for Ilkeston's local hospital. The money raised helps contribute towards essentials such as new beds and medical equipment.
Clive and the group of volunteers have been raising money for this organization through the Santa Bus event for the past 7 years and have raised around £8,000 over this time period. Whilst this year the charity have faced challenges on how the event will go ahead whilst abiding to the Government Covid-19 guidelines, the Santa Bus will continue to bring our community together.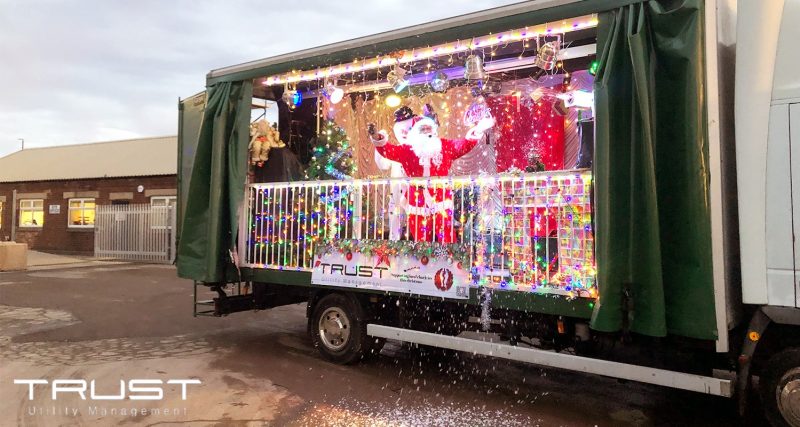 How has this event been adjusted to adhere to the new Covid-19 guidelines?
Following on from the Government guidelines that have been put in place this year following the Covid-19 pandemic, Clive and the other volunteers have been forced to rethink how they can carry out the event this year.
By creating a QR code and placing on the van enables multiple people to donate through their phone – creating less spread through cash handling and also enables everyone to maintain the 2m social distancing rule.
Originally Santa and his friends would be walking alongside the bus, interacting with the children and adults. The bus has now been changed to a van which has a high standing platform. This enables everyone to have a clear view of Santa and his Elves whilst maintaining the 2m social distancing rule throughout. The van will stop at all of the destinations for approximately 10 minutes, however Santa will stay on the van for the entire duration. The van will also maintain a slow pace for the majority of its journey to prevent congestion.
How have Trust Utility Management helped this cause?
We here at Trust want to help our local community as much as possible. Our marketing team created several posters and banners for the cause – These were printed and put in local shops around each area. This has been shared on the Trust website and company LinkedIn page as well as the local community Facebook pages.
We set up a JustGiving page and a QR Code to be placed around the van for donations. We have also placed this around the workplace to increase donations.
Most importantly, Trust are providing the fuel for this journey.  This is a large expense that the organization no longer have to worry about.
The van will travel through Ilkeston, Kirk Hallam, Hallam Fields, Larklands and West Hallam Village. Please find the schedule below.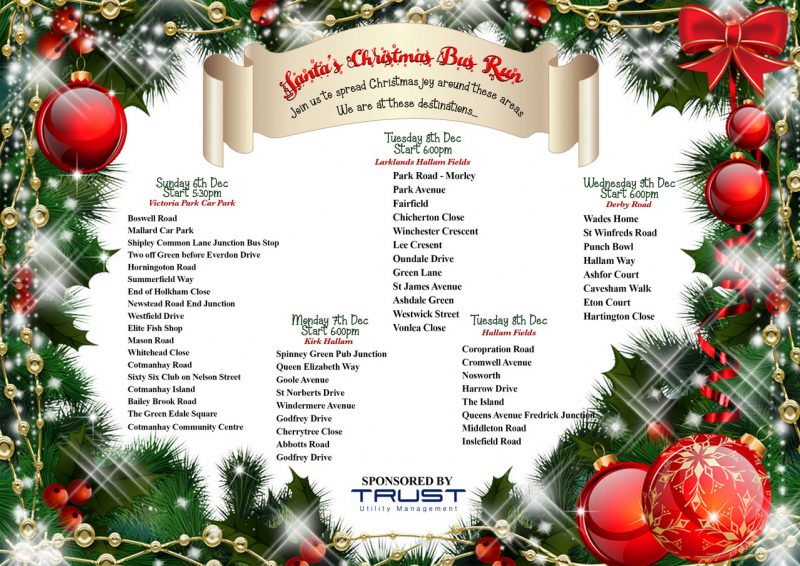 We can't wait to see everyone coming to support this cause and say hello to Santa and his friends! Please help us contribute towards our local hospital and bring together our community this Christmas!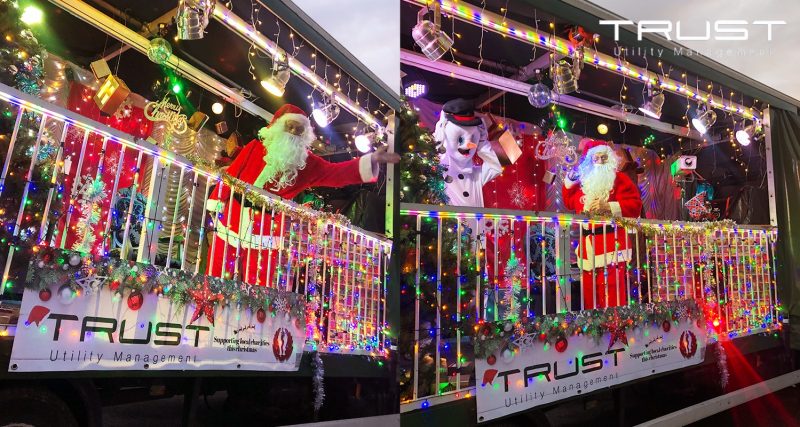 Back to Blog