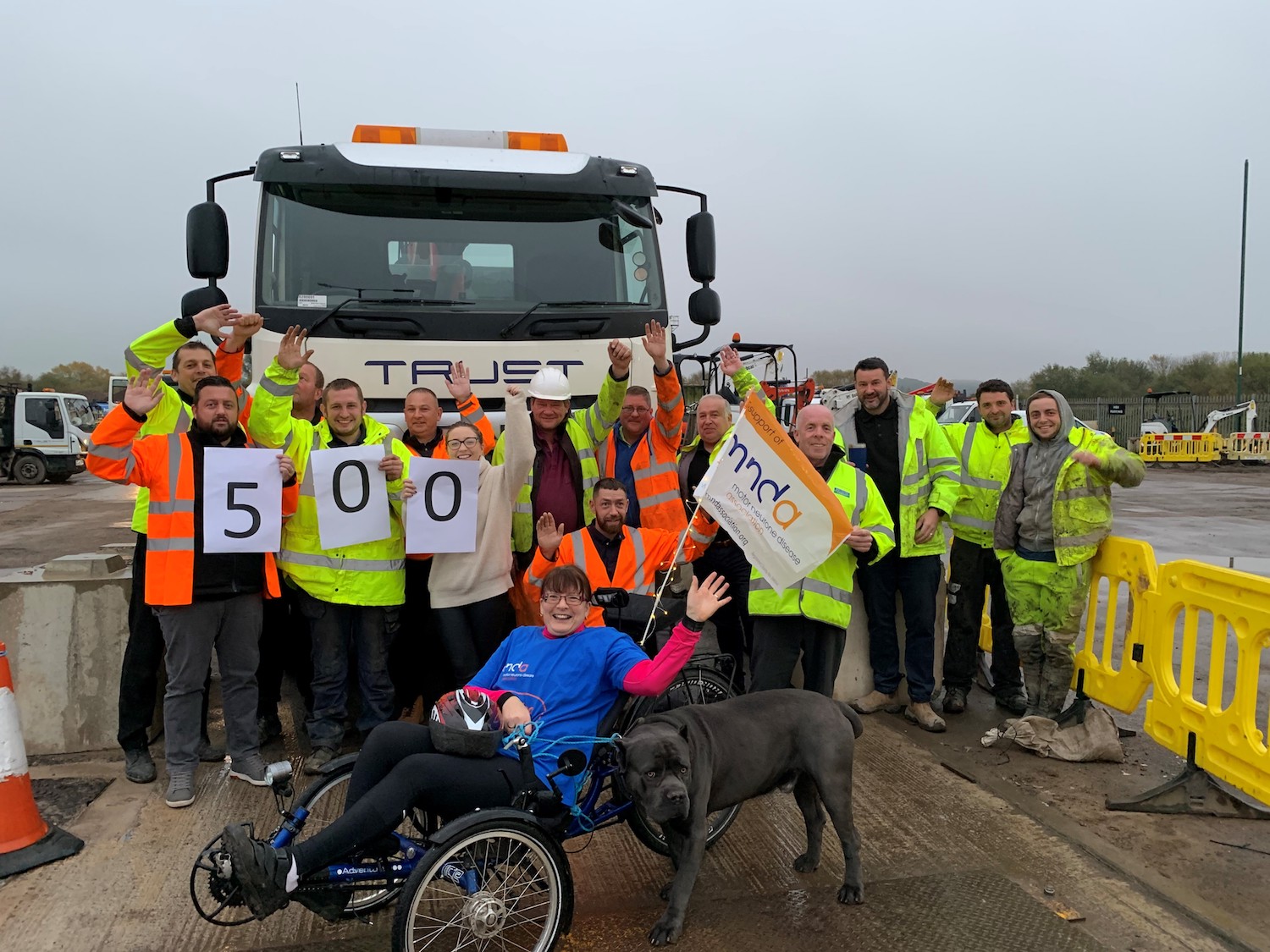 How does TRUST Utility Management show its support for Motor Neurone Disease Association?
09.11.2020
Whilst the world stands to a holt and the news seems full of sadness, we here at TRUST wanted to share the news of one of our employees who wanted to give back and help out an organization through these challenging times. Sheila Bowdler who works in our account's office as Purchase Ledger, has gone above and beyond to put a smile back on everyone's faces with her latest achievement. Starting on Monday 14
th
September 2020, Sheila began her 5000 mile mission. This challenge was set up by the Motor Neurone Disease Association and has since been completed worldwide by thousands of different participants. The challenge consists of 6 weeks and you got it, up to 5000 miles by any form of exercise you chose! The aim is to add all the participants milage together in order to complete a full 5000 miles. This represents a mile for each individual living with Motor Neurone Disease in the UK today.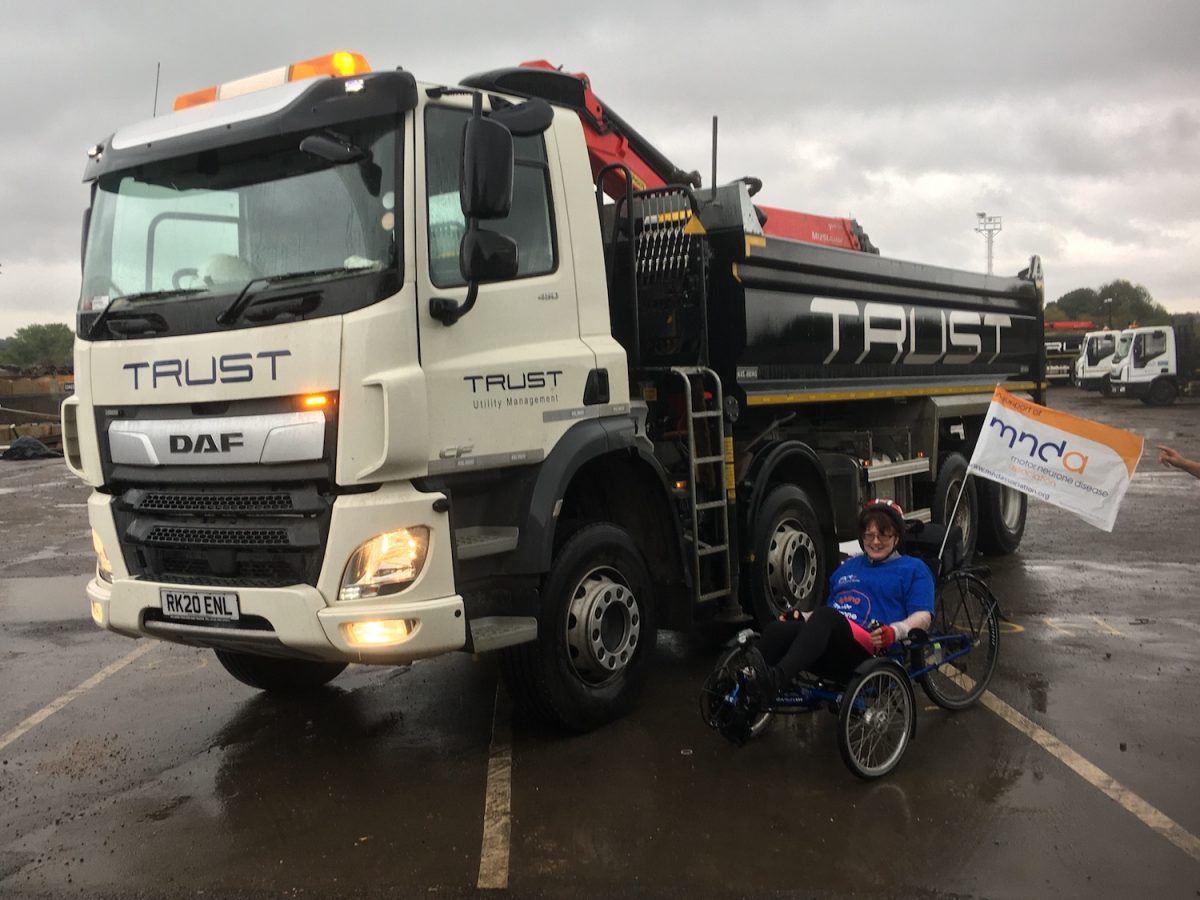 What is Motor Neurone Disease?
Motor Neurone Disease is a rare condition which affects the nerves and brain cells. This condition progressively gets worse over a short period of time.  It affects basic human functions such as swallowing, grip, walking and eventually breathing. Symptoms can affect everyone differently, not all symptoms will affect everyone the same or at the same speed.  Whilst unfortunately, there is
NO CURE
for Motor Neurone Disease there are many different treatments that can potentially help reduce the impact or progression of the symptoms. Take a look at just how far these donations can go:
£50.00 funds laboratory equipment for a day of vital research.
£15.00 buys an adapted cutlery set to help somebody continue to feed themselves.
£550.00 could fund a tablet device with communication software giving the ability to communicate with loved ones. 
"The challenge was hard as I'm not a natural cyclist.  I have a tendency to fall off so using the Ice trike gave me confidence that I would be able to achieve the 500 miles"
Why did you choose this charity?
Not only is this charity known for its astonishing hard work in helping donate towards Motor neurone Disease, but it speaks closer to home for Sheila. Sheila was asked to participate in the challenge by her sister-in-law, Kathy Joules after she sadly lost her husband to the disease in early 2018. Paying tribute to brother-in-law Andrew Joules (53) gave Sheila the push and encouragement to do the challenge. Sheila's neighbor, Kev Harrison (62), has also been recently diagnosed with the disease and has already lost the ability to speak. Sheila described both men as wonderful, family men and it is with great sadness to see them suffer with this degenerative disease however this gives her the strength she needs to complete the challenge.
"On the days its been wet and my knees have been hurting I thought of my friend Kev Harrison and pushed on even harder.  My discomfort is nothing compared to the symptoms experienced by Kev"
Sheila's trike has a large flag with the Motor Neurone Disease Association printed on and she cycled in the MNDA T-shirt.  Where every possible she would let people know why she was cycling.  Along the way people stopped to show encouragement and to tell her about a loved one they have lost to MND.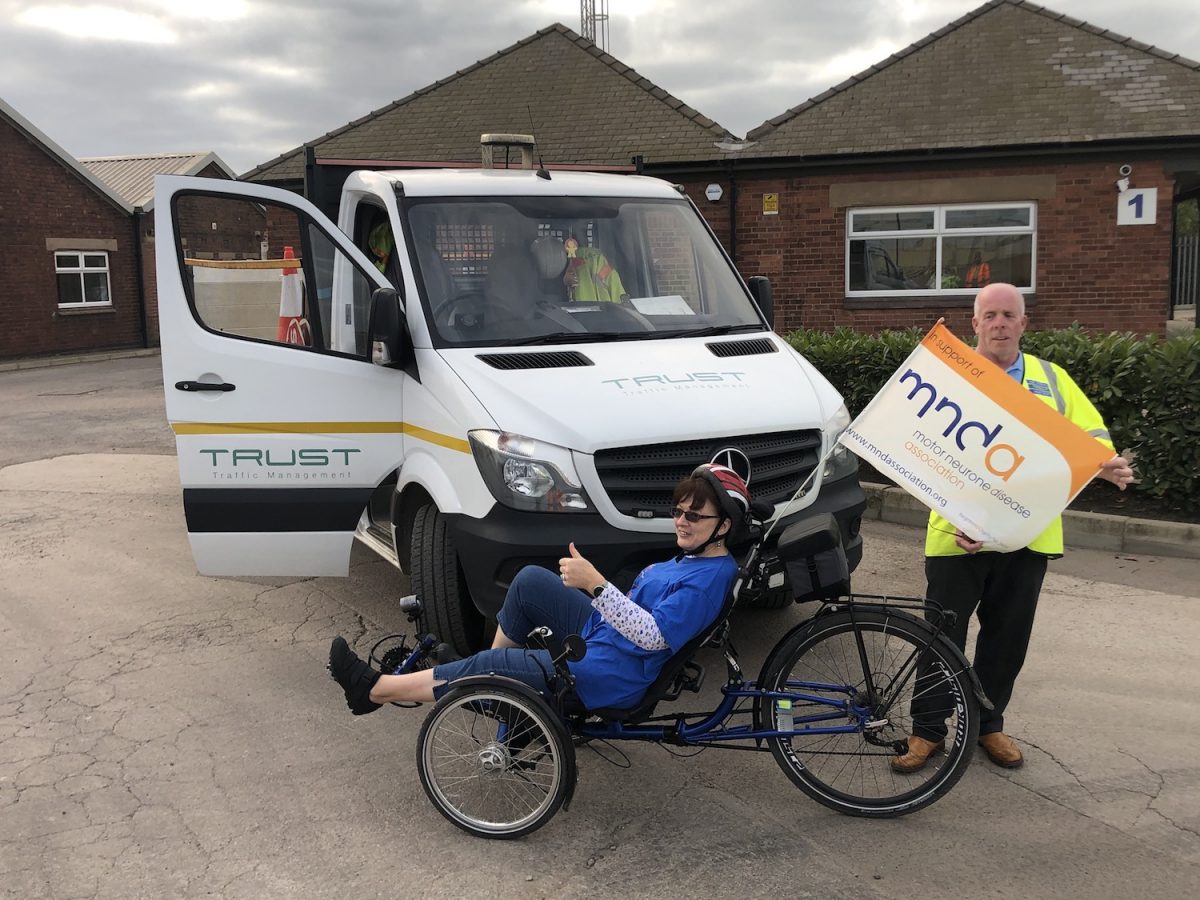 How did Trust support you through this event?
Sheila expressed that she is extremely grateful for the amount of encouragement, support and donations she received from her fellow work colleagues.
"The support at Trust has been so important.  Shena has helped by posting my daily mileage updates on the operations board.  The support and encouragement was amazing from all my co-workers."  
Previous charity events put on by TRUST?
We here at Trust love to help in any way we can. On 30
th
September 2019 we hosted our first Macmillan Coffee Morning which raised an amazing £1800 towards another amazing cause. Events like this bring a sense of community to Trust as everyone helped to make the day extremely special.
The success?
Sheila finally completed her 500 mile target by Ice trike on the 24
th
October 2020 after cycling her way around both Derbyshire, Northumberland and Wales for 6 whole weeks and most importantly, raising a whopping £1188 so far! Sheila's just giving page is still available and any donation is extremely appreciated. Help Sheila reach her £2000 target! Everyone at Trust would like to say a massive well done to Sheila and her amazing achievement. You should be extremely proud of yourself.
Just Giving page:
www.justgiving.com/fundraising/sheila-bowdler
Back to Blog