How does Trust Utility Management protect their staff from COVID-19?
19.10.2020
Following on from this year's events, I am now being asked "Do you feel safe and protected from COVID-19 in your workplace?"
This blog will present to you the different ways of which Trust Utility Management have adhered to the Government guidelines and have adapted to the new rules and regulations put in place to protect each individual within the company.
After the release of guidelines and restrictions from the government on the changes before staff could return back to their work place, changes needed to be made. So, what exactly have we done to implement this:
IN OFFICE:
SEATING:
Seating arrangements and work spaces have been changed to adhere to the social distancing guidelines. This entails keeping a minimum of 1m distance at all times and keeping 2m distance where possible. This has been done by a maximum of 2 people per desk and 1 where possible. One-way systems have been put into place here at Trust. This has also helped with maintaining a small amount of construction workers entering one area at a time.  This can be shown in the image below of the workers reception area. We allow two construction workers maximum to be in this space at one time, entering and exiting through specific doors and adhering to the 2m social distancing rule at all times. This includes relevant signage on each door specifying in or out, plastic visors to separate who they are speaking to and wearing a mask at all times when in this space.
Meetings are kept to a minimum and maintain social distancing at all times. Phone call and video meetings are also implemented where possible.
PLASTIC VISORS:
Plastic visors have been fitted in relevant places, separating each desk and dividing reception areas. These screens either fit the full window size or come above the computer screens to prevent any spread of the virus through coughing, sneezing etc. whilst sat at any desk.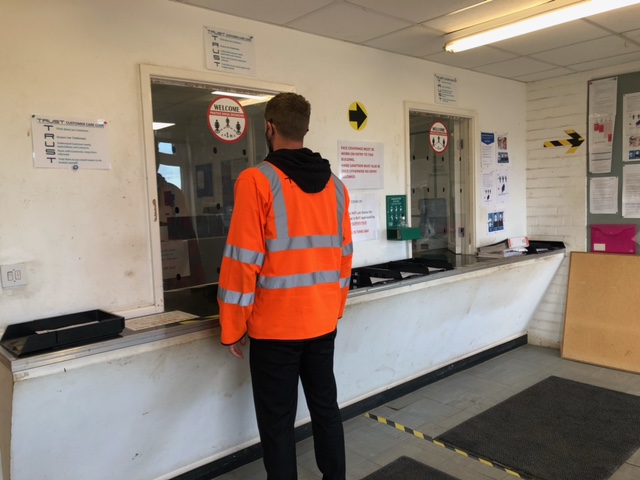 MASKS/WFH:
When entering or moving around within the office spaces a mask MUST be worn at all times and working from home is implemented for those who can. This is for every colleague at Trust and must be implemented by all. The correct signage shows this throughout Trust as seen below.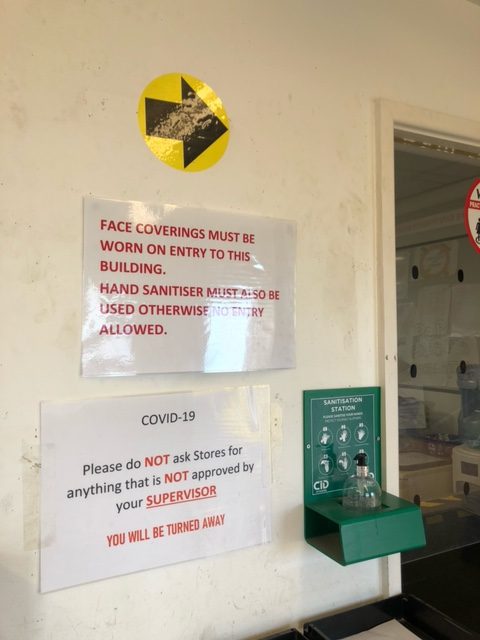 CLEANING:
The frequent cleaning of all surfaces has been improved since being in the office. This includes the relevant placement of hand sanitizer and cleaning products throughout each building. These cleaning stations all have the relevant signage to specify using the product before entering the workplace. Hand sanitizer is also placed at each individual desk to use throughout the day when necessary.
The team at Trust work closely with cleaning organization Polly Cleaning Services to keep all work and public areas clean and tidy. These cleaners come in every working day of the week and maintain government guidelines by wearing face masks and gloves as a part of their PPE.
ONE-WAY:
A one-way system has been put in place in the Trust workers reception area. This prevents colleagues from squeezing into a small area. The correct signage is on show on each door specifying in or out as well as marker arrows on the floor as shown below.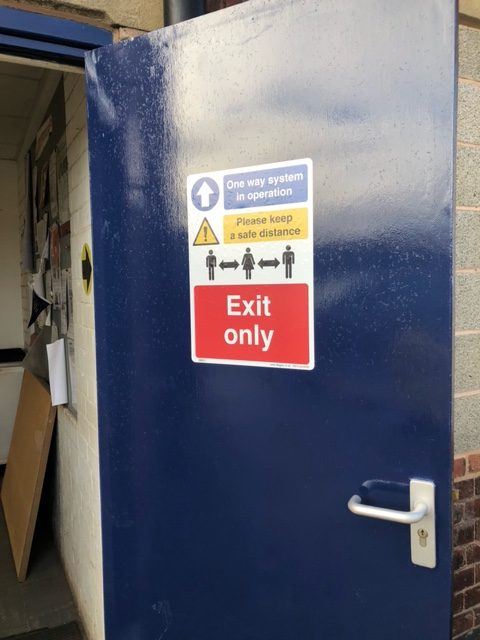 During the peak of the pandemic in March 2020, every individual staff member at TRUST was presented with a "Key Worker Authorization During COVID-19 Pandemic" form. This specifies that the staff at TRUST can continue to travel through and work in areas in Tier 3 and in lockdown and carry out works whilst adhering to Covid-19 guidelines. This form is carried at all times by each laborer that works for Trust.
Trust Utility Management continue to successfully maintain the guidelines and regulations presented by the government in regards to Covid-19 as we head into our second lockdown. So, I will bring you back to my opening question "Do you feel safe and protected in your workplace?" I can confidently reply with yes.
Back to Blog